Pingla Thana Mahavidyalaya
College Library
Library is the resource Centre of human civilization and culture maintained by public body, an institution or a private individual. At present, the Central Library of Pingla Thana Mahavidyalaya is a storehouse of nearly 26085 books (text, reference, donated and rare). The Library has a Separate Section of journals and magazines with the capacity of preserving 1527 journals and 266 magazines.
The Central Library offers various services/ facilities to the users –
Lending facilities (home issue, daily issue and over night issue).
Journals and magazine service.
Reading room service.
Reference & Information Service for placement.
Community Information Service.
Special Issue for SC, ST, BPL and drop candidates.
Display of new arrival books etc.
Besides OPAC (Online Public Access catalogue) Search facilities are also available for students. Apart from the Central Library the students can avail the help of books kept in the respective Departmental Library.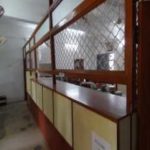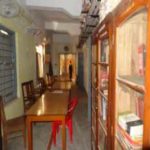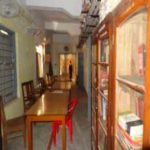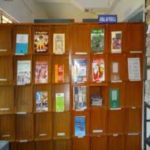 Hostel Accommodation For Boys And Girls
The college provides hostel accommodation to some needy students in separate hostels meant for boys and girls according to intake capacity. Students interested in hostel accommodation have to apply on a separate application form which will be available from the superintendents of the respective hostels. SC/ ST students are given preference. Merit and distance of residence are important criteria for consideration of accommodation in hostel. Hostel superintendents are in charge of all hostel affairs. Continuance of hostel accommodation facility would depend on conduct and progress of individual students. Ragging in any form is strictly prohibited. Any sort of offensive conduct would compel the authority to expel a student any time.
Superintendents:
Boys' Hostel – Dr. Jaydeb Bera & Dr. Sattyanarayan Jana
Girls' Hostel Dr. Nivedita Chakraborty & Mrs. Ila Ghosh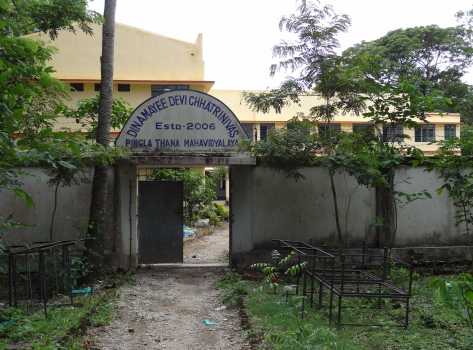 Infrastructural Facilities
The attainment of the present status of grade B++ (as per NAAC accreditation) college in the National level has been through the process of continuous extension and expansion and optimum utilization of available resources from different corners and by the blessings of all. The college buildings and facilities are spread over a campus area of 9.57 acres. All the facilities are scattered within the compact campus in the panoramic lap of nature, free from the din and bustle of modern civilization and in an environment of pollution free atmosphere. The following infra structural resources and facilities, though limited, are available which might be of necessary help to the students if used with optimum means.
| 1. | Internal Quality Assurance Cell (I Q A C). | 37. | Latrines and Urinals at different points. |
| --- | --- | --- | --- |
| 2. | Heritage Block . | 38. | Fire extinguishing system at different points. |
| 3. | Administrative Block. | 39. | Drinking water supply from deep tube well. |
| 4. | Humanities Block. | 40. | Wall Magazines of different departments. |
| 5. | Pure Science Block with Laboratories. | 41. | Transport concession (public buses as well as railways) for students. |
| 6. | Bio-Science Block with Laboratories. | 42. | College magazine |
| 7. | Geography Block with Laboratories. | 43. | Poor Fund facility |
| 8. | Library (Computerized)with separate reading room facilities for students and staff. | 44. | Electricity Supply with separate transformer / Generator |
| 9. | Daily News Papers stand and Employment Gazettes for students. | 45. | NCC units-2 (two) – one for boys and one for girls |
| 10. | Assembly Hall. | 46. | NSS units-4 (four) |
| 11. | N. R. S.C. Block. | 47. | Cultural Programmes |
| 12. | Museum. | 48. | Personality development by Mock Parliament, Quiz, Seminars |
| 13. | Canteen. | 49. | Personal contact cell of students (with the teachers) |
| 14. | Departments' Cubicles. | 50. | Career guidance cell |
| 15. | Teachers' Common Room. | 51. | Womens' cell. |
| 16. | Rest Room for Non- Teaching Staff. | 52. | Grievance Cell |
| 17. | Commerce Block. | 53. | Social interactions with neighbourhood society by extension activities |
| 18. | Vocational Course Department | 54. | Enhancement of competitiveness among students. |
| 19. | Play Ground. | 55. | Alumni Association and reunion. |
| 20. | Outdoor and Indoor games facilities | 56. | Street lights throughout the college campus |
| 21. | Multi Gym. | 57. | Waiting sheds for students and staff. |
| 22. | Swiming Pool (Under Constraction) | 58. | Identity card for students and staff. |
| 23. | Students' Union. | 59. | Notice Boards for information. |
| 24. | Vehicle sheds for students and Staff | 60. | Educational Tours and Surveys. |
| 25. | Car sheds. | 61. | Academic Calendar. |
| 26. | Weather observation system | 62. | Observance of important and memorable dates |
| 27. | Employees' Co-operative Credit Society | 63. | Apiculture unit. |
| 28. | Health Check up Centre. | 64. | Vermi compost unit. |
| 29. | Link Roads to PWD Road at different points. | 65. | Bio-fertiliser (Azolla) unit. |
| 30. | Gardens at different points for beautification | 66. | Mushroom cultivation unit. |
| 31. | Afforestation all over the college campus. | 67. | Aquarium. |
| 32. | Purified Water | 68. | Submersible Pumps – 2 nos. |
| 33. | Gardens for medicinal plants. | 69. | Tube well – 3 nos.. |
| 34. | T.V. facility. | 70. | Boundary wall around the college campus. |
| 35. | Boys' Hostel (Separate Hostel Administration) | 71. | U.G.C. Sponsored Remedial Coaching Classes. |
| 36. | Girls' Hostel within the college campus (Separate Hostel Administration) | 72. | U.G.C. Sponsored Coaching Classes for Entry in Services. |